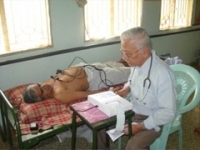 Padmam hospital run by Madurai Charitable Trust is situated in the Akash Building Door No. 2/428A, Shasthri Nagar, Madurai- 625 107. Padmam hospital is a general hospital which helps the surrounding village people. The people are treated here for general, cancer, Diabetic, Heart, bone, Eye and for Women. The facilites avaible are ECG, Physiotherapy, Blood and Urine tests.
The special doctors who visit our hospital are:
Dr.T.N.Kuppusami M.B.B.S., DMR. DMRT (London)
General & Cancer Specialist.
Dr.M.k.Girdhar Babu. M.D., D.Diab


Dr.S.Vadivel Murugan M.D.,C.Diabetes.

Dr. Rukumani M.B.B.S., D.C.H.

Dr.M.Rajasekaran. M.D

Dr.C.V.Lakshman L.I.M. - Ayurvedic.