Sai Ram Vocational Center - Kadachanenthal Campus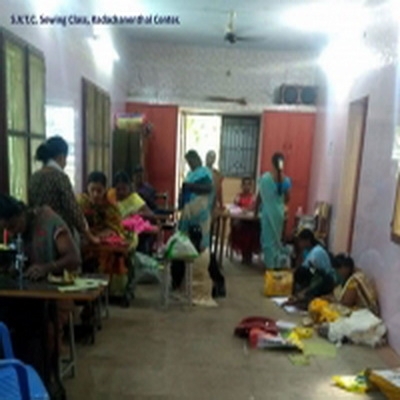 Sairam Vocation Training centre (Run By: Madurai Charitable Trust) was inaugurated on 22nd November 2002, situated at 150/208 East veli street, M.S.P. Building first floor.2 experts train the ladies in measuring, cutting ,sewing skirts, blouses, chudidhar etc., at free of cost. The centre promotes ladies and students to do part time job from home.

Madurai Charitable Trust started a branch in Akash home first floor with 5 sewing machines

and Perunkudi village with 26 sewing machines.
Women Empowerment
Madurai Charitable Trust has set up various Sewing Training Centers to make women self-sufficient and confident. Stitching garments is one job that remains till end of the mankind. Further, basic tailoring skills enable women to work from home, they can continue in their traditional role as homemaker and yet earn. Tailoring is something which women can immediately start right from their homes upon completion of their course.
The course duration is 3 months for basic cutting & sewing, next the participants can progress to the next level which is training in detailed art & creativity. The course is supported by M.C.Trust.
Started with one sewing centre with 7 sewing machines and 15 students in Madurai, It has now expanded to two centers in Perunkudi village and Kadachanenthal Village with over 31 sewing machines 200 students in thi